Governors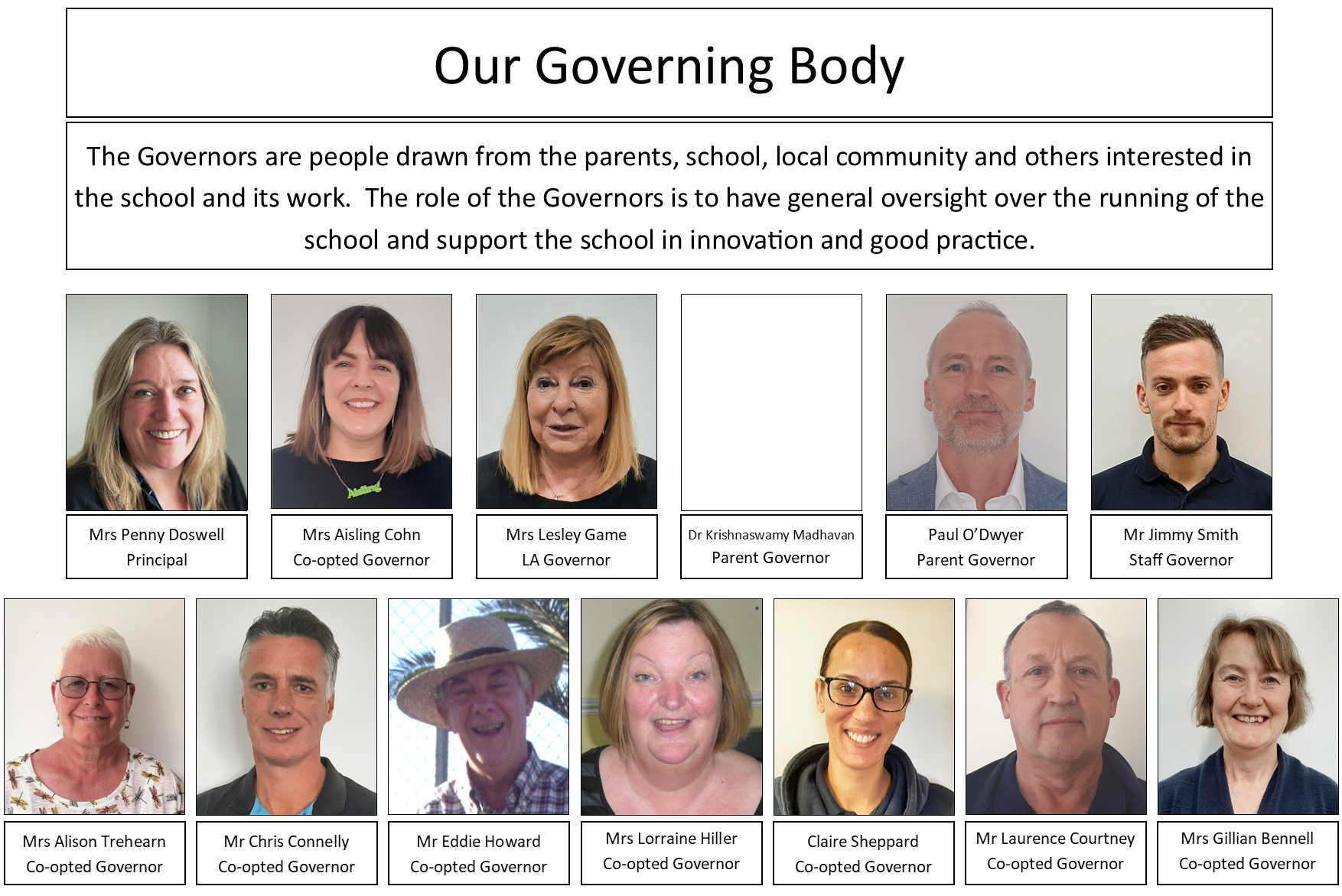 What they do
Establishing the strategic direction, by:
Setting the vision, values, and objectives for the school
Agreeing the school improvement strategy with priorities and targets
Meeting statutory duties
Ensuring accountability, by:
Appointing the Principal
Monitoring progress towards targets
Performance managing the Principal
Engaging with stakeholders
Contributing to school self-evaluation
Ensuring financial probity, by: Setting the budget, Monitoring spending against the budget, Ensuring value for money is obtained, Ensuring risks to the organisation are managed and Composition.
Bradstow School has:
13 governors, comprising of the following types: 1 Principal, 2 parent, 1 Local Authority, 1 staff, 8 co-opted (one reserved for an additional staff governor). Associate governors can be appointed to provide expertise in specific areas but have no voting rights.
The sub-committees cover the areas of:
People & Practice Leadership
Penny Doswell
Claire Sheppard
Alison Trehearn (Chair)
Lorraine Hiller
Lesley Game
Jeannette Newton
Sustainability
Chris Connelly (Vice Chair)
Eddie Howard (Chair)
Gillian Bennell
Laurence Courtney
Penny Doswell
Education & Residential Provision
Aisling Cohn
Gillian Bennell
Jimmy Smith
Paul O'Dwyer (Chair)
Penny Doswell
Lorraine Hiller
These committees report into the governors' meeting. All governors are members of the governors' meeting.
How are they appointed?
Principal : by virtue of her job.
Co-opted : are appointed at the governing meeting.
Parent governors : voted by parents.
LA governors: are nominated by the Local Authority and appointed at the governing meeting.
Staff governors: teacher governor is elected by a majority vote amongst fellow teachers. Non-teaching staff governors are elected by a majority vote amongst non-teaching staff.
Associate governor: Associate members are appointed by the governing body to serve on one or more governing body committees. They may also attend full governing body meetings. Associated members should be appointed because of the specific expertise and experience they can contribute to the effective governance and success of the school. The definition of associate member is wide. Subject to the disqualifications set out in the Regulations, the governing body may appoint a pupil, school staff member, or any other person as an associate member so that they can contribute their specific expertise. This can help to address specific gaps identified in the skills of governing body members, and/or help the governing body respond to particular challenges that they may be facing.
How often do they meet?
The school holds a governors' meeting where every governor is welcome to attend and a set of committee meetings every term, where the committee members are welcome to attend.
Voting rights
Associate governor: They are not governors and therefore do not have a vote in governing decisions, but may be given a vote on decision made by committees to which they are appointed.
Co-opted, LA, Parent and Staff governors: can vote in both governing and committee meetings.
Name
Type

Appointed

by

Period
Committee / Roles
Class link
Relevant business and financial interests
Governance roles in other institutions
Any Material interests arising from relationships between governors or between governors and school staff
Mrs Penny Doswell
Principal
virtue of job
June2022-June2026
On All Sub Committees
None
None
None
Mr Eddie Howard
Co-opted
board of governors
Mar2019-Mar2023

Chair of Sustainability Subcommittee

Link Governor : Finance

5
None
None
None
Mr Jimmy Smith
Staff
voted by teaching staff

Feb2022-Feb2026

Education & Residential Subcommittee
None
None
None
Mrs Alison Trehearn
Co-opted
board of governors
Jan2016-Jan2024

Vice Chair of Governors

Chair of People & Practice Leadership

Vice Chair of Educational Provision & Residential Provision Subcommittee

Link Governor : Deputy Safeguarding / Single Central Register

1
None
None
None
Mr Mike Kemlo

SBM,

Advisor

by virtue of job
Mar2017-Mar2025

School Business Manager

None
None
None
Mr Barry Golding
Incoming SBM, Advisor
by virtue of job
Nov2023-Nov2031
School Business Manager
None
None
None
Miss Claire Sheppard
Co-opted
voted by non-teaching staff
Nov2021-Nov2025
People & Practice Leadership Subcommittee
None
None
None
Mrs Lorraine Hiller
Co-opted
board of governors
Mar2019-Mar2023

Co-Chair of Governors

People & Practice Leadership Subcommittee

7
None
None
None
Mr Laurence Courtney
Co-opted
board of governors
Mar2019-Mar2023

Sustainability Subcommittee

Link Governor: H&S / Premises

8
None
None
None
Mrs Gillian Bennell
Co-opted
board of governors
Nov2019-Nov2023

Co-Chair of Governors

Sustainability Subcommittee

Educational Provision & Residential Provision Subcommittee

Link Governor: H&S / GDPR / Processes

4B
None
None
None
Mr Paul O'Dwyer
Parent
voted by parents
June2022-June2026
Educational Provision & Residential Provision Subcommittee
None
None
None
Dr Krishnaswamy Madhavan
Parent
voted by parents
Nov2023-Nov2027
Educational Provision & Residential Provision Subcommittee
None
None
None
Mr Chris Connelly
Co-opted
board of governors
Oct2022-Oct2026
Sustainability Subcommittee
None
None
None
Mrs Aisling Cohn
Co-opted
board of governors
Nov2022-Nov2026
Educational Provision & Residential Provision Subcommittee
None
None
None
Mrs Lesley Game
LA Governor
board of governors
Nov2022-Nov2026

People & Practice Leadership Subcommittee

None
None
None
---
Governor Attendance Record (2023/24)
Key: Y=attended, A=apologies, X=not attended
Governor

28/9/23

Sub-Committee

Meeting

Sustainability

2/10/23

Sub-Committee

Education & Residential Provision

3/10/23

Sub-Committee

Meeting

People & Practice Leadership

20/11/2023

Governors'

Meeting

22/1/2024

Sub-Committee Meeting

Mrs Alison Trehearn
Y
Y
Mr Eddie Howard
Y
Y
Mr Mike Kemlo
Y
A
Y
Y
Mr Barry Golding
Y
Mrs Penny Doswell
Y
Y
Y
Y
Mrs Lorraine Hiller
Y
Y
Y
A
Mr Laurence Courtney
A
X
Miss Claire Sheppard
N
Y
Mr Jimmy Smith
N
A
Mrs Gillian Bennell
Y
Y
Y
Mr Paul O'Dwyer
Y
Y
Dr Krishnaswamy Madhavan
Y
Mr Chris Connelly
Y
Y
Mrs Aisling Cohn
A
A
Mrs Lesley Game
Y
Y
Governor Attendance Record (2023/24) continued
Key: Y=attended, A=apologies, X=not attended
Governor

22/1/24

Sub-Committee

Meeting

11/3/24

Governors'

Meeting

13/5/24

Sub-Committee

Meeting

Sustainability

24/6/24

Govenors'

Meeting

Mrs Alison Trehearn
Mr Eddie Howard
Mr Mike Kemlo
Mrs Penny Doswell
Mrs Lorraine Hiller
Mr Laurence Courtney
Miss Claire Sheppard
Mr Jimmy Smith
Mrs Gillian Bennell
Mr Paul O'Dwyer
Dr Krishnaswamy Madhavan
Mr Chris Connelly
Mrs Aisling Cohn
Mrs Lesley Game
---
Governor Attendance Record (2022/23)
Key: Y=attended, A=apologies, X=not attended
Governor

3/10/22

Sub-Committee

Meeting

21/11/22

Governors'

Meeting

16/1/23

Sub-Committee

Meeting

People & Practice Leadership

19/1/2023

Sub-Committee Meeting

Sustainability

23/1/2023

Sub-Committee Meeting

Education & Residential Provision

13/3/23

Governors'

Meeting

Mrs Alison Trehearn
Y
Y
Y
Y
Mr Eddie Howard
Y
A
Y
Y
Mr Mike Kemlo
Y
Y
Y
Y
Y
Y
Mrs Penny Doswell
Y
Y
Y
Y
Y
Mrs Jeannette Newton
Y
Y
A
X
Mrs Lorraine Hiller
Y
Y
Y
Y
A
Y
Mr Laurence Courtney
Y
A
Y
A
Miss Claire Sheppard
Y
A
Y
Y
Mr Jimmy Smith
Y
Y
Y
A
Mrs Gillian Bennell
Y
Y
Y
Y
Y
Mr Paul O'Dwyer
Y
Y
Y
A
Mrs Leanne Batey
Y
Y
A
Resigned Feb2023
Mr Chris Connelly
Y
A
Y
Y
Mrs Aisling Cohn
A
Y
Mrs Lesley Game
Y
A
Governor Attendance Record (2022/23) continued
Key: Y=attended, A=apologies, X=not attended
Governor

12/5/23

Sub-Committee

Meeting

People & Practice Leadership

15/5/23

Sub-Committee

Meeting

Education & Residential Provision

18/5/23

Sub-Committee

Meeting

Sustainability

26/6/23

Governors'

Meeting

[not quorate]

4/7/2023

Governors'

Meeting

Mrs Alison Trehearn
Y
A
Y
Mr Eddie Howard
Y
Y
Y
Mr Mike Kemlo
Y
Y
Y
Y
A
Mrs Penny Doswell
Y
Y
Y
Y
Y
Mrs Jeannette Newton
X
A
X
Mrs Lorraine Hiller
Y
attended by other co-chair
Y
Y
Y
Mr Laurence Courtney
A
A
Y
Miss Claire Sheppard
A
Y
Y
Mr Jimmy Smith
A
A
A
Mrs Gillian Bennell
Y
Y
Y
Y
Mr Paul O'Dwyer
Y
A
Y
Mrs Leanne Batey
Mr Chris Connelly
Y
A
A
Mrs Aisling Cohn
Y
A
Y
Mrs Lesley Game
Y
Y
Y
---
Governor Attendance Record (2021/22)
Key: Y=attended, A=apologies, X=not attended
Governor

11/10/21

Sub-Committee

Meeting

22/11/21

Governors'

Meeting

17/1/22

Sub-Committee

Meeting

14/3/22

Governors'

Meeting

9/5/22

Sub-Committee

Meeting

20/6/22

Governors'

Meeting

Mrs Alison Trehearn
Y
Y
Y
Y
Y
Y
Mr Eddie Howard
A
A
Y
Y
A
Y
Mr Mike Kemlo
Y
Y
Y
Y
Y
Y
Mrs Sarah Dunn
Y
Y
Y
Y
Y
Y
Mr David Pulman
A
A
Y
A
X
Resigned
Mr Andre Haynes
A
A
A
Y
Y

A

Resigned

Mrs Jeannette Newton
Y
A
A
Y
Y
Y
Mrs Abby Tarvin
Y
Y
A
Y
Y

Y

Resigned

Mrs Lorraine Hiller
Y
Y
Y
Y
Y
Y
Mr Laurence Courtney
Y
Y
A
A
Y
Y
Miss Claire Sheppard
-
Y
Y
Y
Y
Y
Mr Jimmy Smith
-
-
-
Y
Y
Y
Mrs Gillian Bennell
Y
Y
Y
A
Y
Y
Mr Paul O'Dwyer
Y
Mrs Leanne Batey
Y
Governor Attendance Record (2020/21)
Key: Y=attended, A=apologies, X=not attended
Governor

12/10/20

Sub-Committee

Meeting

16/11/20

Governors'

Meeting

18/1/21

Sub-Committee

Meeting

8/3/21

Governors'

Meeting

10/5/21

Sub-Committee

Meeting

5/7/21

Governors'

Meeting

Mrs Alison Trehearn
Y
Y
Y
Y
Y
Y
Mr Eddie Howard
Y
Y
Y
Y
Y
Y
Mr Mike Kemlo
Y
Y
Y
Y
Y
Y
Mrs Sarah Dunn
Y
Y
Y
Y
Y
Y
Mr David Pulman
Y
Y
Y
Y
Y
A
Mr Andre Haynes
Y
Y
Y
Y
Y
Y
Mr Darren Miller
Y
A
Y
A
Y
Y
Mrs Jeannette Newton
Y
Y
A
A
Y
Y
Mrs Abby Tarvin
Y
Y
Y
Y
Y
Y
Mrs Lorraine Hiller
Y
Y
Y
Y
A
Y
Mr Laurence Courtney
Y
Y
Y
Y
Y
Y
Mr Andy Hillier
A
A [Retired Dec 2020]
Mrs Gillian Bennell
Y
Y
Y
Y
Y
Y
Mrs Debbie Holmes
[Appointed Nov2020]
Y
Y
A
Y
Mr Joshua Dark
[Appointed Feb2021]
Y
Y
Y