Announcements
Shakespeare In Schools : 13 Nov 2019
Posted on 12th Sep 2019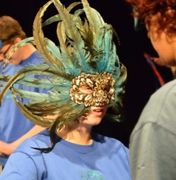 In just a short time, under the bright lights of a professional theatre, we take to the stage to tell one of Shakespeare's most captivating stories; King Lear.
After weeks of rehearsals, all of our hard work will culminate in a thrilling retelling of this classic tale.
Shakespeare Schools Foundation (SSF) is a cultural education charity that uses the unique power of Shakespeare to transform lives.
We are delighted to be part of their flagship project, the Shakespeare Schools Festival, for the fourth time on Wednesday 13th November 2019.