World Book Day : 3 March 2022
3rd Mar 2022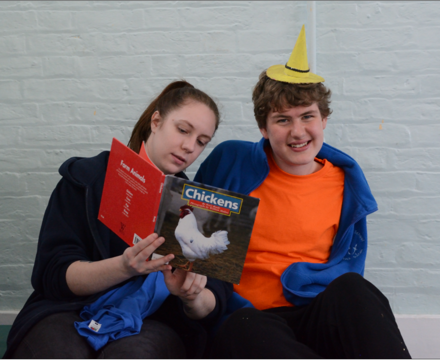 The annual charitable celebration of creativity in literature was a huge success at Bradstow School this year.
At Bradstow we decided to engage our young people with a week of activities and learning opportunities with the English, Drama and Library departments coming together to create a multidisciplinary scheme of learning.
Each Key Stage chose a book that they would read and explore and different ways.
Lower school explored 'We're going on a bear hunt', middle school dove into 'The day the crayons quit' and Upper school went on a journey with 'Where the wild things are'.
Each class began their week with some engagement activities based on inference and gathering meaning from images from the text. This was planned for by the English coordinator and differentiated to match our assessment framework on SOLAR. The feedback from the planned sessions was very positive as young people had time to engage with the text at a more personal and accessible level (please see the attached planning).
On Wednesday, every class had a session in the Library where the books came to life and young people could immerse themselves into the stories by having a sensory approach to the telling of the story.
On Thursday, classes were treated to a drama session where the books' main themes were explored using drama games. The subject coordinator visited each class with props and drama games to bring the young people's imaginations to life.
On Friday, staff and young people had the opportunity to make their World Book Day costumes using art and craft supplies, in preparation for actual World Book Day on Thursday 3rd March 2022.
On actual World Book Day the young people had the opportunity to enter the hall wearing their costumes in with their partnered class to enjoy a camping reading experience.
The library coordinator had designed the space to have bean bags, a large selection of texts and an enjoyable snack for the young people to enjoy during their time in the session.
Every text the young people engaged with was also gifted to the young people to take back to their classrooms or teams at the end of the day to encourage our 'reading for pleasure' ethos at Bradstow School. It was an absolute delight to see so many young people engaging with the experience and the costumes were fantastic!
This celebration was only possible because of the continuous hard work our staff put in to making experiences so positive for our young people.