Aspirations Days : 1-4 March 2022
1st Mar 2022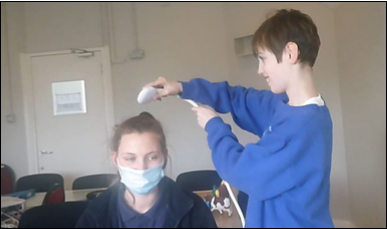 EHCP transfer reviews occur in years 2, 6, 9, 11 and 14 for young people during their school careers.
At these key transition points the EHCP is required to be reviewed and new outcomes set for the following key stage. As part of this process, our external careers advisor (John Handley) visits annually to meet with our young people in years 6,9 11 and 13 for 'Aspirations Days'.
Aspirations Days are normally spread across 10 days which are then divided into 60 individual sessions, with each session lasting 45 minutes. However this year, due to Covid-19, the sessions took place over only 4 days. Aspirations booklets containing questions relating to the young person's aspirations for their future (please see attachment) are given to the young people in advance to be completed and brought to the meeting. Each young person in the academic years 6, 9 11 and 13 has a minimum of 2 meetings with both the Careers advisor and the Vocational Learning Coordinator (Rebecca Bishop). During these meetings, the young person has an opportunity to discuss their Aspirations mentioned in the booklet and also explore many activities relating to the world of work.
Each Aspirations Day meeting is led by the young person's interests, gifts and talents, which in turn allows the careers advisor and vocational development coordinator to learn about these, and also about any support needs that they may have so that a bespoke plan for future activities to explore these interests, gifts and talents further, can be created with the view to facilitating suitable work experience opportunities and/or further learning opportunities such as college placements. All meetings are documented in the form of videos and photographs, which are then uploaded to the young person's wikis into the 'my dreams and aspirations' section. Photos and videos are also added to the young person's Aspirations booklet, which is updated each time they meet with the careers advisor, which is shared with parents/caregivers in the young person's annual review, and also used to support decisions made during EHCP reviews.
The meetings have been very successful, with young people engaging in the activities very well, we even had a young person visit us twice in his own time to take part in some of the activities arranged. This was brilliant as he also told us that one of the activities he had tried was something that helped him feel calm, so this information was passed on and arrangements have been made for him to have his own ordered, that he can use whenever he wants to. Historically the activities and Aspirations Days have taken place in one area, but this year it has been adapted so that the young people can access more 'hands on' activities across the whole school site, and also so that the meetings can happen in a set room, the young person's own classroom or even outside, allowing the sessions to be further individualised. A short video has been made of the days so far, and this was shared on the school website, as well as in our school assembly, and with all staff. Sharing in this way raises awareness and understanding for the staff and young people alike, who may not have been involved in an Aspirations Day before.