Shakespeare In Schools : Twelth Night : 22 March 2022
22nd Mar 2022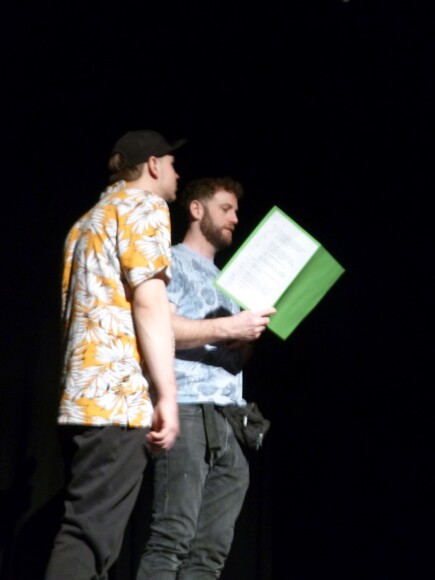 After a two year hiatus the Shakespeare for Schools festival was once again to be produced and performed at the Theatre Royal in Margate.
Being my first ever festival, I thought about taking it easy with a Shakespeare play that I know well and is easy to portray. Then I thought well that's not the Bradstow way and decided on Twelfth Night, a play about love, loss, gender identity, unrequited love and not to mention a shipwreck to open the play. There are complicated plot lines and sub plots throughout this play and it is difficult to follow even for those 'bards' that know it well. But that wasn't going to stop us performing our version of the play. Set on a beach somewhere near the South East Coast of England and in a 1960's Californian surfer style we laid out our story.
The opening scene of a shipwreck saw the whole cast traverse the stage making gestures that sailors might do to the sound track of Wellerman sea shanty. As the storm came in the gestures began to break down and the boat, which had been made by our in-house prop maker Steven Stringer, broke in two (as intended) and became two surf boards. With the whole cast now on the stage floor hearing the Beach Boys track Surfin' USA Sprung to life and took up positions. Some in deck chairs and others as if being at the beach applying sun lotion. Here the cast stayed as the narrators told the story and introduced the action of each scene and characters with a game that was played out.
The use of buckets and spades for our fight scenes made the audience laugh (it is considered a comedy after all) and Malvolio's yellow socks were a definite favourite. The performance was over in a flash and hearing the audience laugh at the right places was a delight. My main delight came at the curtain call when all the young people I had been working with over the term stood forward and took their bow. As the audience clapped with real appreciation at what they had just seen I hopped that each individual had a sense of pride at what they had accomplished. Because I was certainly proud of them.
A big thank you to all the staff that gave up their time and energy to support these fantastic young actors in being a part of something special.
Review of the production from a Theatre Royal Director