New 360 degree Swing Installed Dec 2021
14th Jan 2022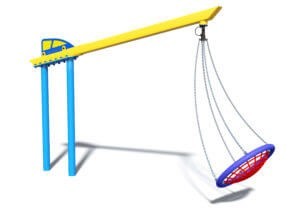 This swing has proved very popular to the young people at Bradstow.
Since its arrival, the swing has drawn queues of young people keen to try out the feeling of rotational movement. In addition to the fun element, there are benefits to the young person's vestibular proprioception and visual sensory needs.
The vestibular sense gives a young person information about where their body is in space, if they're moving or still, how quickly they're moving, and in what direction. Proprioceptive input is sensory input in joints and muscles to tell us about our movements and body position.
Repetition in using the swing will challenge and improve the young persons core strength, righting reactions, motor skills, body awareness, safety, muscle tone, balance, and coordination.
Sensory swings challenge and develop the functional use of vision by allowing the use of vision to see while moving, or give young people the option of being completely immersed in a swing and eliminating visual feedback
Did you know that 15 minutes of swinging can have effects on the brain for up to 6-8 hours!?