School Calendar
Christmas Show | Report To Parents/Carers | Workshop
7th Dec 2019
13:00 - 15:00
Bradstow School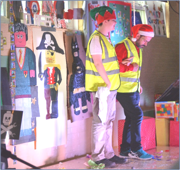 Our Christmas celebration and show this year is planned for Saturday 7th December, and we look forward to seeing many of you then. We can guarantee an informative and fun filled day, and entertainment from 2pm in the afternoon, and a workshop in the morning for parents and carers with a guest speaker from 11.00 a.m. Lunch will be provided.
Please come along and support our children, young people and all the staff, who work so hard to show you what they can do on these occasions.
In the morning there will be an information and practical workshop for parents and carers on Making Choices. This will focus on the legal implications and responsibilities for parents and staff in making choices, and will include information and discussion about restrictive practices. This workshop will run from 11am led by an external Positive Behaviour Support consultant called Jon Hull. Jon has expertise in supporting families and staff in reducing restrictive practice using Positive Behaviour Support.
This workshop will be followed by the annual parent and carer survey, with a buffet lunch and various fundraising stalls (all from 12.30 pm in The Byrgles Atrium). Copies of The School Report to Parents will be available on the day. Please come along and read what is happening in the school currently and ask any questions that you might have about the developments in the school? There will also be an opportunity to meet the newly appointed Head of Residential Services, James Borland, who recently joined the school.
Our Christmas Show this year will be in The Gym from 2.00 p.m. The theme is the Greatest Showman and will again provide a showcase for various presentations including musical interludes, performances, creative arts and videos including all the children and young people.